How to take Interesting Photos in Boring Places
Do you live in a boring town with nothing exciting to photograph? Maybe you're not home, maybe you're on vacation, but still, boring imagery galore.
Home or away, I know sometimes I find myself wondering what to take pictures of when bored. It's a great conundrum but it's also a great challenge. You see all those photos on Instagram and just immediately feel defeated.
You feel like you can't meet the challenge because everyone else is someplace amazing! Meanwhile, there you are, surrounded by the dull monotonous hum of mediocrity.
But, what if I told you that can take interesting photos no matter where you are. Heck, I bet within 10 feet of the space you currently occupy is something of interest.
Best of all, you just need to understand this one thing! With this one piece of knowledge, you will learn creative ways to take photos when your immediate surroundings are boring.
How I found Perspective on my Big Boring Camping Trip
OK, my trip wasn't boring. I had a blast catching up with family, sitting and cooking by the fire, took the kayak out for a bit, went to the beach, and just a lot of camping activity.
Now, camping without electricity is hard but it's even harder when you have kids, I have two. You wake up, cook breakfast, try to manage some activity, and then before you know it, it's lunchtime.
A couple of minutes after that, you're stoking the fire because guess what, It's time for dinner!
You get my point. Everything seems to take longer when you are camping. Time flies and suddenly two days have passed and you haven't even set up the hammock, took out the fishing pole, or photographed a single thing!
As a photographer, you also realize you have to strike a balance with the family. If I go into full photography mode, I can distance myself from the experience. Instead of sharing the experience with loved ones, I'm sharing the experience with my camera.
Not only that, sometimes you just want to experience the activity in it's entirety. I've brought the camera kayaking before. You worry about the kayak tipping over and losing the camera. You also become enamored with taking photos. I just wanted to kayak!
So, here I am, the trip almost over and no photos of the camping trip except the one below.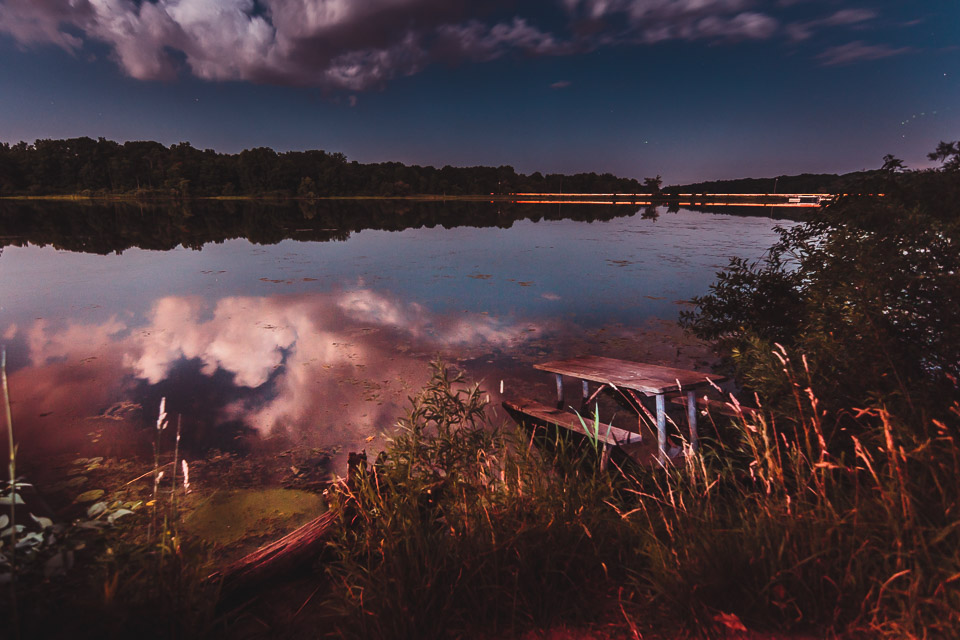 I wasn't really all that satisfied and wanted to take a couple more photos but when would the time appear. My wife, Julie, wanted me to drive her and my daughter down to the shower the last evening so I figured this was it. This was my opportunity.
The challenge: How to Take Interesting Photos in Uninteresting Places
The showers were near the beach. While they were in the shower, I would spend the time scouting for possible photo opportunities around the area. It's a beach, I mean, there has to be something right? Here I start to ponder previous photos I took at a beach a long time ago.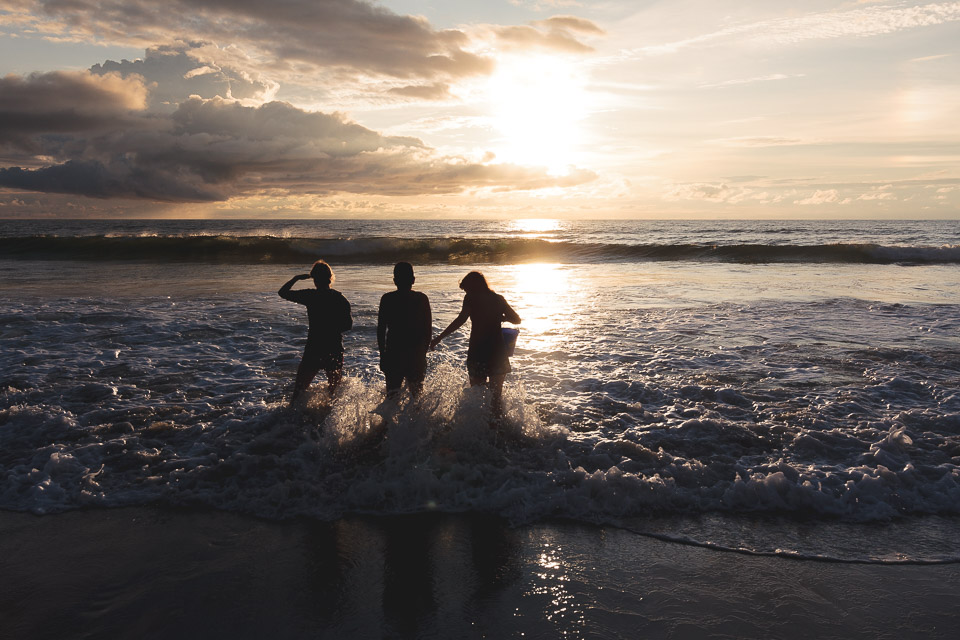 My 1 Amazing Tip for Creating Interesting Photos in Boring Locations
"To me, photography is an art of observation. It's about finding something interesting in an ordinary place…I've found it has little to do with the things you see and everything to do with the way you see them." — Elliott Erwitt
Click To Tweet
Aha! Photography is a game of perspective – play the game!
In my recent post about composition, perspective was the first rule I covered. Things are not always what they seem, and with the right perspective, you can make anything interesting! Yes, Perspective is the key to Great Photography Even When Your Surroundings are Boring!
Sure, I'm at the beach but there's not a cloud in the sky. The sunset going on is just plain boring. There are still some people hanging around on the beach. I like the people, people always make great subjects.
The problem, I'm feeling a bit self-conscious. It's hard to raise your camera at a complete stranger and fire off a bunch of photographs without thinking, Is this acceptable? What are they going to think?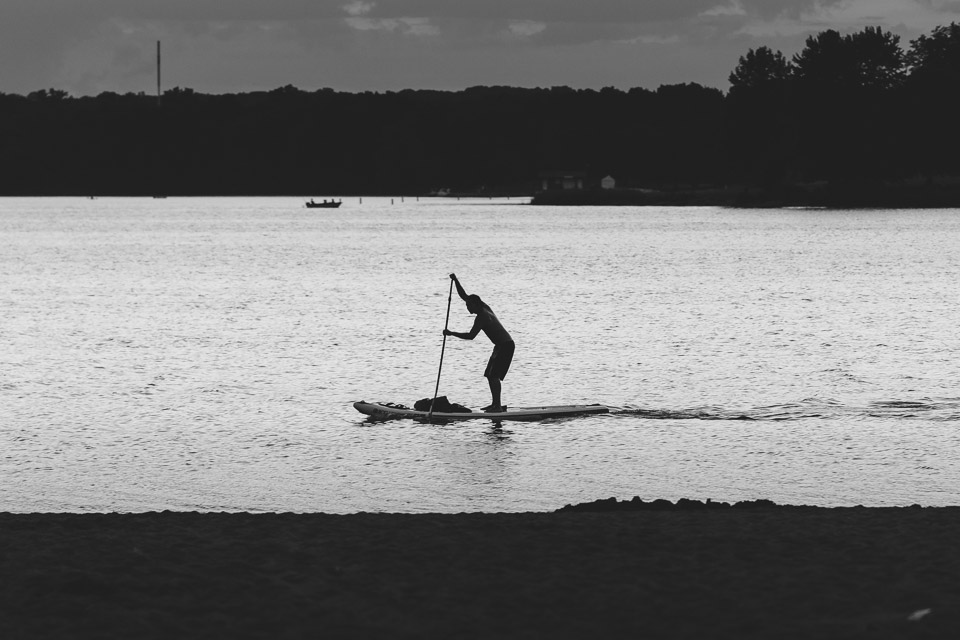 Surely, I can do better than this. Let's continue the hunt.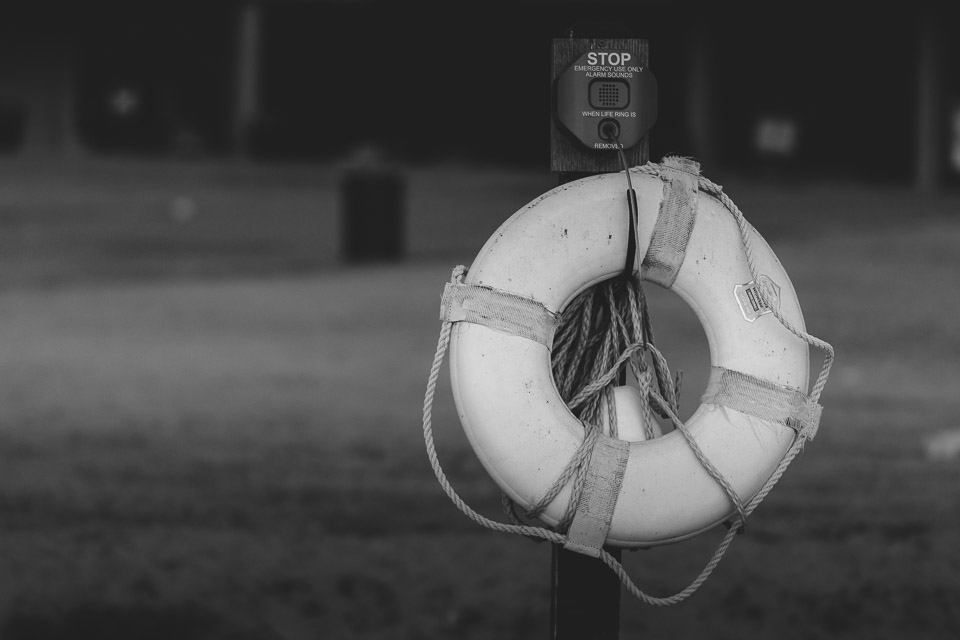 I go and sit down at one of the benches near the shower building where my wife and daughter are showering. Honestly, I feel like giving up. It's just not happening.
That's when I see it. It's this building!
OK, I know, it's not the stuff of dreams and it's certainly not what you think of returning with after a camping trip but at this point, I'll take it. Not the photo above, I pulled that from the Stony Creek Metropark Website.
I'm talking about the two images below. Here, I played the game of perspective!
Photography is an Art of Observation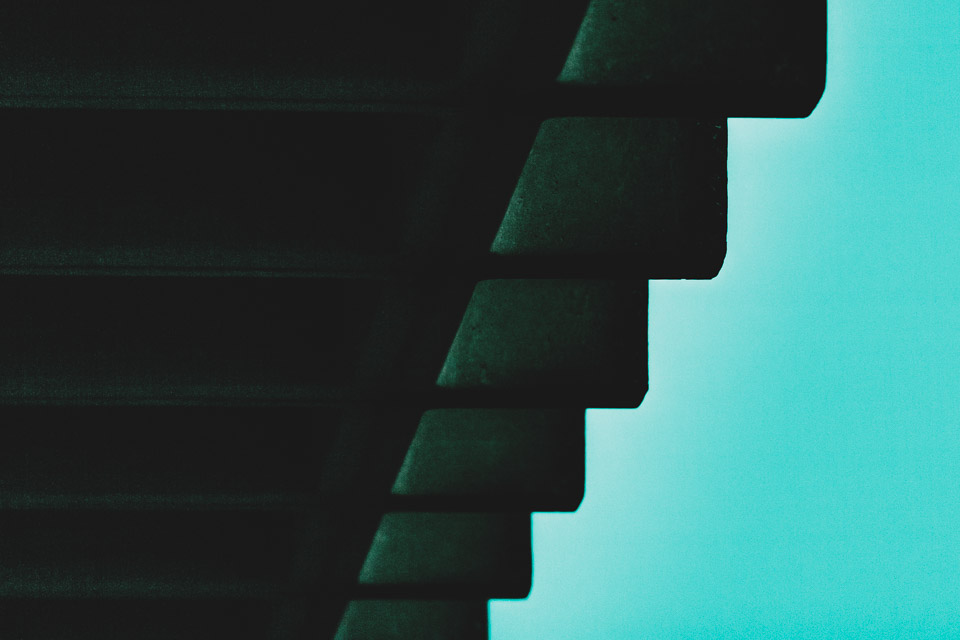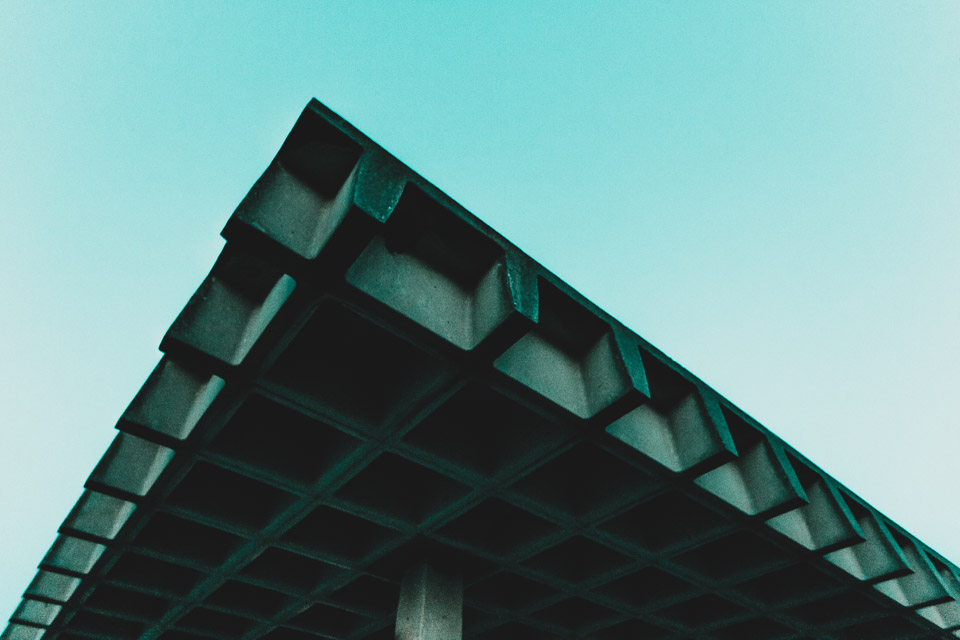 Now sure, as I said, not the typical images you think about creating when camping. Also, I'm not going to pretend they are amazing. I do think I revealed interest however in a rather boring plain looking subject.
These moments, these challenges push us to see things with a new perspective. This experience may push me to see the next photographic opportunity in place I think none exists.
How can you utilize perspective in your photography?
Please check out my post, 13 Photography Tips for Bloggers – Composition, for a complete look at the rules of composition. As far as perspective goes, let's do a quick review.
Look Up or Look Down
Don't forget to look up or down in the search for interesting photos. There is a whole other world out there when you view things from an up-down perspective. Get out there and look for it!
Get High or Get Low
Abandon your normal stance, you know the one you walk around in all day. Get low, heck, get on your stomach if you have to, we need these shots! Conversely, get high! Hold the camera over your head or find the high ground. When you change the viewpoint of a photo you not only alter converging lines, depth, and perspective but also mood and power.
For example, a high-angle shot can make your subject feel vulnerable when the context is right. Conversely, shooting from a lower angle can make your subject feel more powerful.
One of my favorite tools for getting low is the Joby Gorillapod. This little tripod is not only great for travel but also great for when you want to get a low perspective.
Change Your Angle
Sometimes just changing the angle in which you are holding your camera can offer some added interest. Normally, we view the world in lines and shapes relative to the horizon. This horizontal perspective is especially important in landscape images. I hate when the horizon is even a little bit off-kilter.
However, in the proper context, slanted lines and diagonals can offer your image a sense of energy and movement. They can also be associated with a feeling of confusion, danger, disorientation, drunkenness, imbalance, insanity, instability, nervousness, tension, and violence.
Change Your Lens – Yes, your lens does change your perspective!
If you have a Macro Lens, grab it! If you are in a boring location than a Macro Lens can be the hero that comes and saves the day. Talk about a change of perspective. A Macro Lens will open up a world of tiny landscapes just waiting for exploration.
Alternatively, go for the wide-angle. A wide-angle lens will give you the big picture. At the same time, it makes everything seem further away. This will leave your viewer feeling as if they are on the sidelines or a distant observer.
Things really become interesting when you add something close to the lens when utilizing a wide-angle. Anything close to the lens will appear huge relative to the rest of the scene. That's because a wide-angle lens expands and exaggerate the space in which your subject occupies.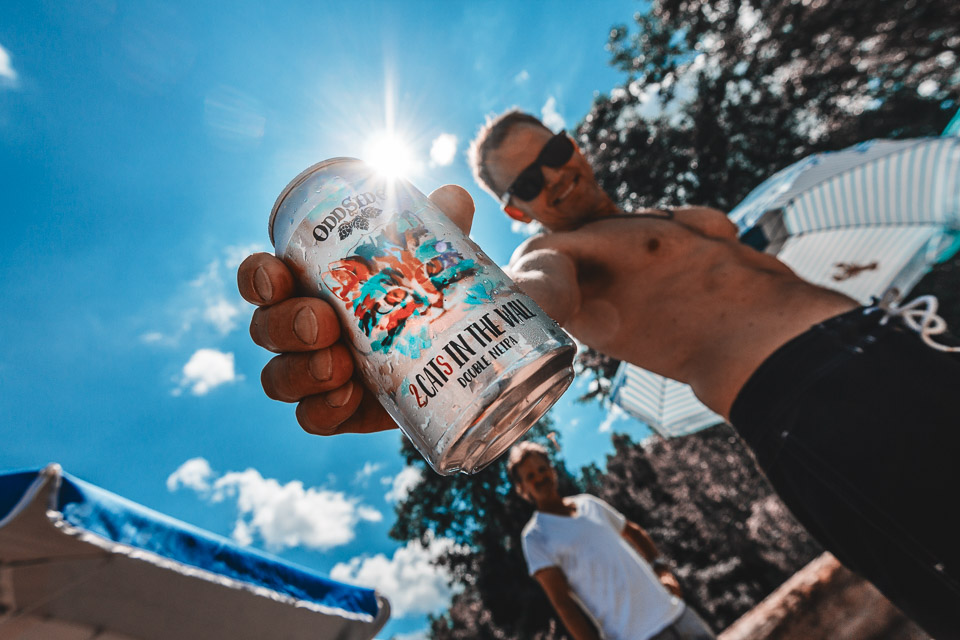 If you're looking to condense space and make the viewer feel a more intimate connection than grab the telephoto lens. A telephoto lens will get you in close and personal. It will give your audience the feeling that they are part of the activity, scene, or setting.
The Takeaway is Perspective
Hopefully, this post changed your perspective on boring locations while opening your eyes to the world of perspective. Don't just give up when you think everything around you is boring and has no photographic interest. Change your Perspective! See what you can make happen. In the end, you will be a better photographer for it.
Join the Tribe and Share your Story about Perspective!
Want to join an amazing tribe of photographers, artists, and other creatives. Check out our Facebook group, NFT Photography Community. Once you join please share a little bit about yourself. Share an image or two and tell us how you use perspective in your photography.
Also, don't forget to jump on the email list to get some free Photoshop Overlays and my weekly email. I want to talk with you about inspiration, photography, blogging and just staying motivated.
Share these Pins to Pinterest