Have you ever wondered if you could do landscape photography like the stuff you see in the National Geographic?
Do you scour the web all day looking for the best landscape photography tips because you're going to be the next Jim Richardson?
Well than this is the post for you. Sure, I promise too much because let's face it, reading this post will not make you the next big thing. Only you dedicating a lot of time, energy and ambition can do that.
My hope is that this post can get you started down the right path toward becoming the photographer you want to be. I also want to introduce you to some familiar and perhaps not so familiar, photography bloggers. Let's begin!
My Photography is Boring
I know you! You scroll through Instagram or your favorite social media site and just think, I suck, why don't my photos look like this? I live in a shit-town! How am I to take great photos when everything around me is drab?
OK, maybe that isn't you. Heck, maybe that's just me. Sure, I get lucky now and then and come away with something I'm proud of but to be honest, it's been a while.
I need intervention, I need help! Google, are you listening? I hope so because in this post, I am going to do something a little different.
Photography Blog Roundup
I'm going to find five photography blogs and pull their collective energy together to create this list.
"None of us is as smart as all of us." ― Kenneth H. Blanchard
Click To Tweet
From one photography blog to another, and then into the mind of practicing photographers such as yourself, let's learn, practice, and do photography together!
5 Photography Blogs for Landscape Photography Tips
1.) Wake Up and Get out there!
One landscape photographer I really admire is Thomas Heaton. On his blog he shares a post titled, The Hardest Part of Landscape Photography.
What is it? You guessed it, just hauling your lazy ass out of bed at the crack of dawn for something that might or might not be worth it. The following is a quote from Thomas's blog and really, it's so simple and yet so true!
"Landscape photography can be so simple. Your camera is very intelligent and will focus and expose for you in most cases. It is YOUR job to get out there, explore and find these hidden treasures. You need tenacity and perseverance and that is the most difficult thing about landscape photography." – Thomas Heaton
So yeah, what are you waiting for? Get your camera gear together and set it by the door all ready to go. Don't leave this part for the morning because I know you will just shut the alarm off.
Now, set the alarm. Wake up, grab a quick coffee and get out there! Please share your results in the Facebook group!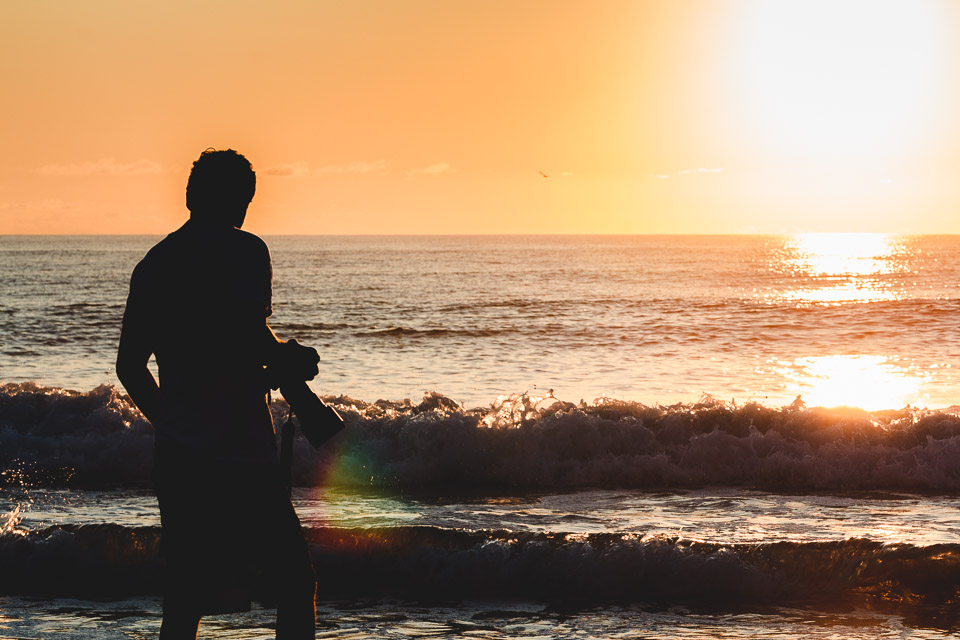 2.) Photograph the Sunrise
Since you're up early you are probably thinking, "Here I come sunrise, you better show up in your best colors!"
Sunrise photography isn't particularly difficult once you get out of bed. Still, you should know some things, and Loyd Towe of Simple Photo Tips has some great insight.
In his post, 5 tips for Amazing Sunrise Photography, Loyd goes over all the basics of capturing beautiful images during sunrise. Things like, preparation, gear and camera settings.
Most important, he talks about the three different periods of time you are going to encounter. These being, the time before sunrise, the time the sun breaks the horizon, and the time after sunrise.
Often times, my favorite is actually the time before the sun breaks the horizon. The light speaks differently to everyone and each period of time is unique in it's own right.
One thing is certain, because the light changes so quickly, you get the benefit of coming away from a single location with a set of completely different looking images.
Go check out Loyd's blog before your next morning adventure!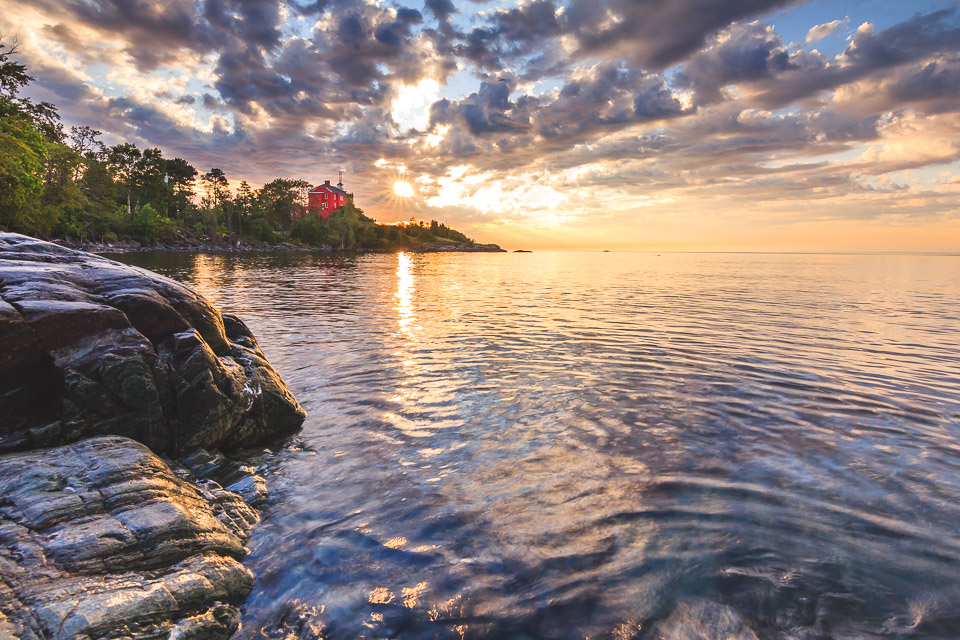 3.) Experiment with Shutter Speed
Another great nature, wildlife, and travel photographer is Richard Bernabe. In his post, Going Coastal: Awesome Seascape Photography Tips, Richard talks about experimenting with shutter speeds.
It makes sense, particularly when talking about seascape photography. If you use a high shutter speed, above 1/250 sec, you will freeze water in motion. This creates a feeling of power and gives the moment a sense of pending outcome.
Conversely, by using a long shutter speed you can tame the raging swells of an angry ocean into a wispy sleeping giant. This imbues a sense of calm, and offers a simple grace to the moment, when none seemed to exist before.
Experimenting with shutter speed isn't just for seascapes however. Of course, waterfalls, rivers and streams come to mind but also a cloudy sky.
Imagine photographing giant skyscrapers against a cloudy sky. You can use a longer shutter speed to give the clouds a sense of movement around these standing still giants.
Bottom line, play around with fast and slow shutter speeds. Find the sweet spot that speaks to the artist in you!
Do note, you will need a neutral density filter to use a long shutter speed in broad day light. Alternatively, go out when it's dark!
4.) Explore Miniature Landscapes with Miniature Photography
OK, so maybe you're not visiting the Valley of the Moon anytime soon, and the local scenery is leaving you a bit uninspired. In this scenario, you're looking to create your own magic. Sometimes you can find this magic in tiny places.
Andrew of Tangible Day describes himself as a neuroscientist, freelance writer, miniature painter, photographer and hobbyist.
In his post, Miniature Photography at the Beach, he explores tiny landscapes using miniatures. Grabbing just some miniatures from an Axis & Allies game, Andrew heads to the beach in search of seeing the world a little differently.
You can do this too, especially if you have a macro lens. Grab some of your own small figurines or miniatures and go create your own tiny landscapes.
Maybe you love marvel, order some marvel miniatures on Amazon and go make it happen. Marvel not your thing? Maybe it's Fortnite, Minecraft or heck, maybe you just want to create your own tiny landscapes with some miniature landscape scenery.
One of my favorite lenses to use for this type of work is the Canon 100mm f/2.8. Below I try my own hand at creating some unique interesting worlds with some miniatures from the Descent roleplaying board game.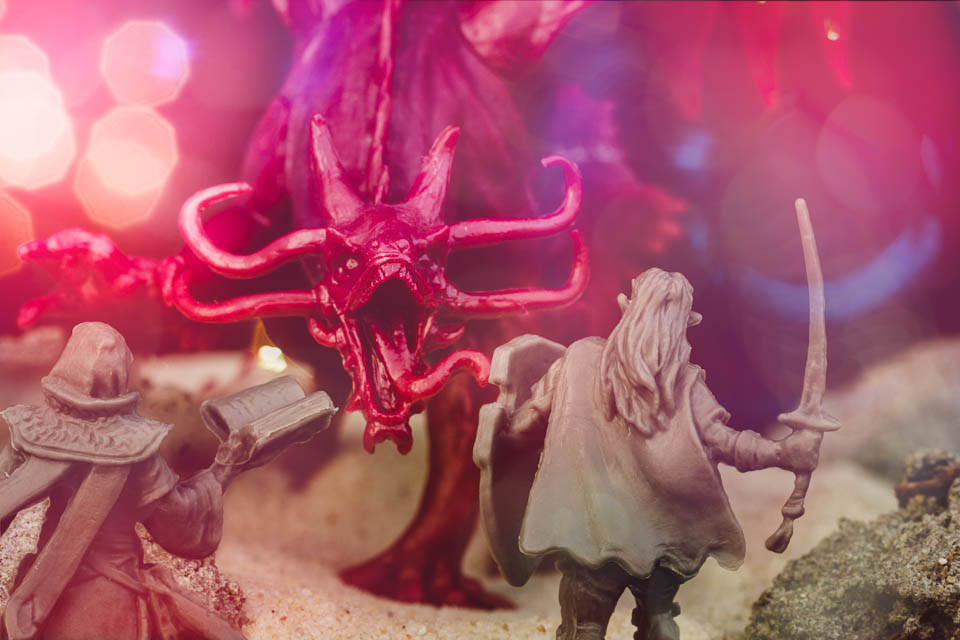 5.) Explore Drone Photography
Almost the opposite of getting close, let's soar above and explore the world from afar.
This is something I have not personally tried but it's something I have interest in learning. Every time I see some good drone photography, it immediately makes me stop scrolling.
I've talked about perspective before, especially in this post, 1 Amazing Tip for taking Interesting Photos in Boring Places. Finding a unique perspective is huge.
With drone photography, a unique perspective is pretty much the default. We are not used to looking at the world from a top down perspective. You can find interesting patterns and shapes to form compositions that are not typically accessible.
Now, that don't mean it's easy, you still need to learn how to pilot the drone. You don't want to crash it into the sea with thousands of dollars of gear attached do you? That's going to take time and practice all by itself.
Hillary Grigonis published an article on Creative Live titled, Everything You Ever Wanted to Know About Drone Photography. For some great examples and additional enthusiasm for drone photography, I highly suggest you give it a look.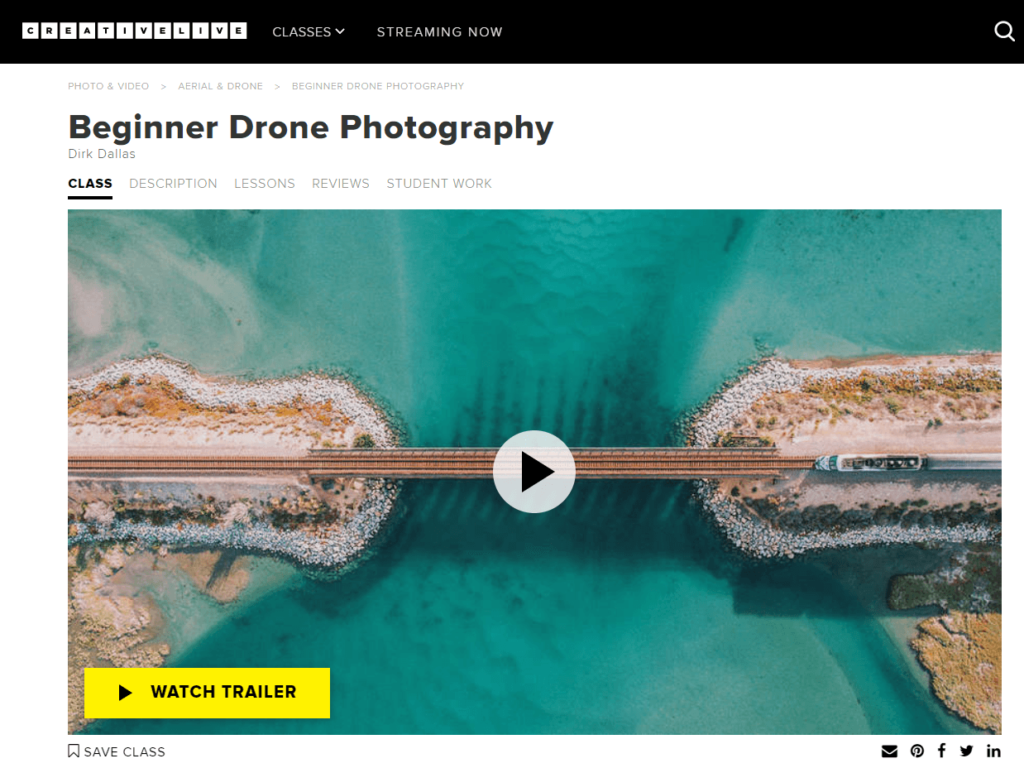 Do you have a Photography Blog?
If you have your own photography blog and have blogged about landscape photography tips then go ahead and drop a link to that post in the comments below.
Don't blog?
That's OK, use the comments below and share your favorite landscape photography tip with us!
Join the Tribe
Want to join an amazing tribe of photographers, artists, and other creatives? Want more NFT Tips? Check out our Facebook group, NFT Photography Community. The Goal: Let's just all help each other out!
Also, don't forget to jump on the email list to get some free Photoshop Overlays and my "very occasional" email. I want to talk with you about inspiration, photography, blogging and just staying motivated.