I finally got around to creating my first NFT. It's a collection of digital images I created called The Bitcoin Dream. It centers around one man's investment in Bitcoin during its infancy days. Unfortunately, he lost the keys to his wallet and access to his fortune!
These pieces are a big leap from the typical images I share openly, my photography, etc. However, it's not a far leap from the messing around and experimenting I tend to do. This stuff just sits on my computer.
You see, I have always liked deconstructing my photography and playing around with it digitally but I never felt it had a place. It always felt very experimental to me and was not sure where it fit in with my photography goals.
Then this whole NFT art explosion happened and I thought, finally, this type of work might have a place. In fact, I began to wonder, maybe this whole time I've been thinking about photography wrong.
Finding my Identity as a Photographer
Of course, I like photography but I do not really enjoy taking on clients and setting appointments, etc. I prefer to do TFP shoots and just have fun with it, no stress, no money involved, just fun!
When I work with someone, model, etc, I want it to be like a joint art project. You bring, your ideas, skills, and vision and I'll bring mine, and let's make something cool.
This whole time, I've felt stagnant in my photography because I never knew what I really wanted out of photography.
Then NFTs come along and it literally brought me focus. Just maybe, this whole time, photography has been a means to another form of digital art and expression.
I just feel like a kid again, a kid that says, what the hell, let's do it and not give a damn about conventional, traditional and the perceived "right way" to do things.
Let's try something new, something fun, and something that just comes from the heart without any reservation. The only good reason, because it was fun and enjoyable.
I think I'm not the only one that feels this way about NFTs and being part of the NFT community.
My First NFT
Now, this is a big step outside my normal and I don't plan to make this a regular style but for my first NFT it felt right.
For my images, I took my own photography and did some compositing in Photoshop to create the scene. Then I used the AI auto-painting algorithms present in Painter Essentials to help construct an alternate copy of my original composite. Then I blended the two separate layers to my liking.
It was important to use some type of ai because I wanted to represent the aesthetics of the computer to help represent emerging technology, the blockchain, and ultimately Bitcoin.
Speaking of AI, another photographer is utilizing something altogether unique. She employs GAN breeding Artificial Intelligence to produce rare NFT collectibles to create a collection of rare AI-generated plants and organic matter.
I don't completely understand it but Ellie Kemshall's NFTs are designed to question the future of artwork and the symbiosis between the natural world and technology. How cool is that?
Going back to my first NFT collection, the Bitcoin Dream, I've attached a story. It might not be necessary but I do enjoy writing and I think NFTs are the perfect place to include a story with your art.
The Bitcoin Intrusion | #6 in The Bitcoin Dream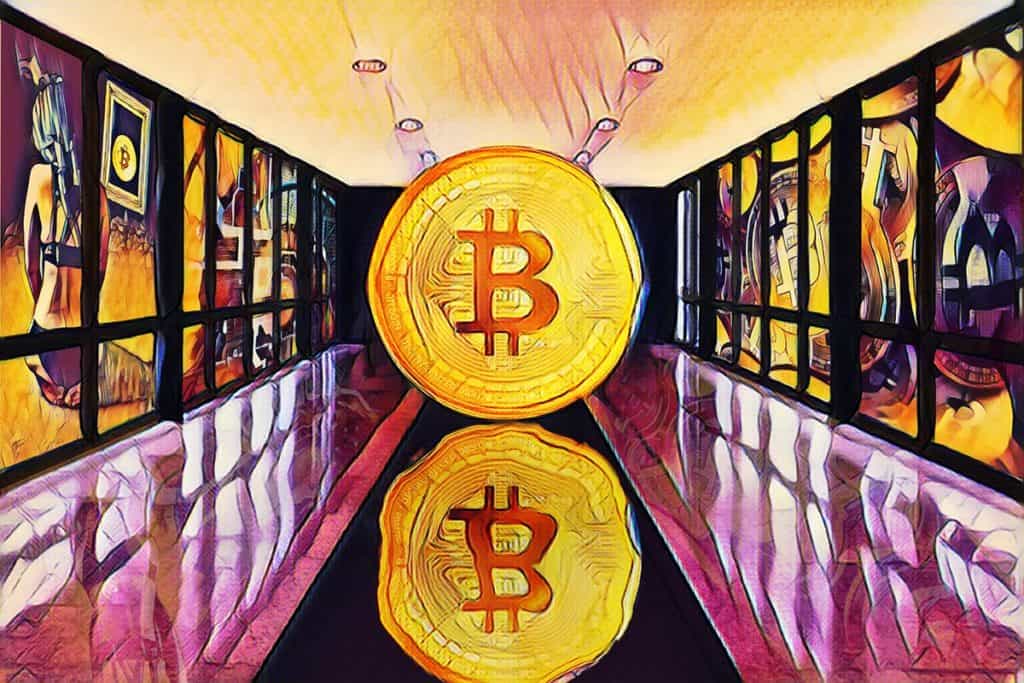 This is #6 of 8 separate pieces to the "Bitcoin Dream Collection"

The Bitcoin Dream encourages the trading of art! See Details Below.

The Bitcoin Dream is a digital art series of 8 pieces by photographer and digital artist Michael Falk. It depicts a man who bought bitcoin in its infancy days but lost the keys to his digital wallet.

The lost fortune consists of over 6000 bitcoins currently valued to be roughly $300m. It seems a new life with endless possibilities is right before him and yet, just out of reach.

In his search for the keys, the man's life and marriage begin to quickly unravel as desperation and blame take root. It festers in their days and nights, and bleeds into everything they were and hoped to be.

The torment, almost tangible, begins to take its toll. Condemnation, onus, and despair eat at the very sanctity of vows that once made a man husband, and a women wife.

It didn't just stop at his marriage. The anguish manifest itself in his job, his health, and ultimately, his identity.

Eventually, as a last resort, he turns to hypnosis with hopes of retrieving the keys from his subconscious mind. This labor of faith and trust proves fruitless, ultimately leading him to abandon all hope.

Misery consumes him, haunting his every waking moment, and terrorizing the nights until finally landing him in the hospital.

Having jumped from a high window at work the mans injuries were serious. The people at his work said he told them he was being chased but nobody could confirm the story.

At the precipice of his death, his wife tries her best to reconcile the marriage. She extends an olive branch by agreeing to care for him at home while he recovers from the ordeal.

It's only then, in her care that he discovers the startling truth. It's her, she's been poisoning his mind all along. In fact, this entire time his wife has been possessed by a demon named Satoshi.

Trade me: If the pieces in this collection change hands more than 6000 times total between all 8 pieces than a super rare "end to story" piece will be released.

Why 6000? It's homage to the 6000 lost Bitcoin fortune.
Final Thoughts on NFTs
If you enjoy my NFTs you can bid on them on Opensea. So far, I've sold 3 of them and one is relisted in the hands of a new owner. Maybe you would like to be the new owner.
If not, that is OK.
Drop a comment below and let me know if you are into NFT's. Tell me how NFT's have reshaped the way you approach your art, the sale of your art, and how you plan to utilize NFTs.
Feel free to share a link to your NFT art projects as well as your twitter handle, I want to feature you!
Join the Tribe
Want to join an amazing tribe of photographers, artists, and other creatives? Want more NFT Tips? Check out our Facebook group, NFT Photography Community. The Goal: Let's just all help each other out!
Also, don't forget to jump on the email list to get some free Photoshop Overlays and my "very occasional" email. I want to talk with you about inspiration, photography, blogging and just staying motivated.